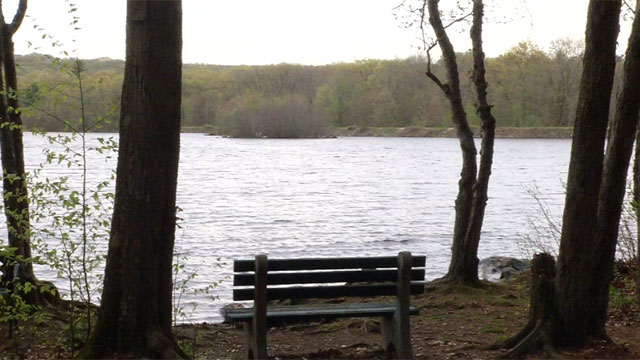 One of the most beautiful walking trails in CT around is the 3.5 mile trail that loops Scovill Reservoir , known as the Mill Pond Way walking trail. The town of Wolcott recently extended the trail to loop the two peninsulas that are located off Munson Road and now the trail is connected from Wolf Hill Road to Bound Line Road. The aesthetics one encounters is astounding. Huge white pines surround this scenic and beautifully- shaped body of water.
Over the past few years, the town has widened all the pathways and have smoothed out the walkways with crushed stone to make the walking easy even for novice walkers. There are many places to sit and take in the scenery, look at the birds or watch the fishermen hoping for a catch.
Exercise stops have been erected in several spots along the trail for those who want more of a workout. Parking is convenient located in several areas and that make the trail accessible to young and old. The trail is also dog-friendly. Mill Pond Way has made the residents and neighbors in Wolcott proud of their town.